Automatic Wire Stripping and ferrules crimping Machine
Automatic Wire Stripping and Ferrules Crimping Machine ,Our machine provides efficient processing of loose wire end sleeves / ferruleswith
plastic collars in different lengths . The ferrules are automatically fed by vibration plate , stripping and crimping in one work stepwhich greatly
improves the crimping efficiency of the ferrules . The feeding guide rail is easy to adjust One machine can be used forterminals of different sizes.
Suitable for crimping a variety of loose tubular terminals onto cables
1.Wire stripping and crimping can be finished at one time
2.The terminals are crimped on all four sides, no need to replace the crimping die
3.LCD display, automatically adjust stripping depth and length, as well as crimping height
4.Vibrating plate feeding, saving time and effort, replacing terminals is convenient and quick
5.Fully sealed stripping and crimping, safe and reliable
Model

SA-YJ200

Capacity

Cable Stripping, Terminal Inserting and Terminal Crimping are finished in 2.5 seconds

Applicable specs

0.5mm2 – 2.5 mm2(Terminal conduit length should be less than 12mm)

4.0 mm2(Terminal conduit length should be less than 10mm)

Detect device

detect lack of terminals

Power

AC220V/50HZ single phase

Gas source

0.5-0.8Mpa (please use clean and dry air)

Dimensions

L450mm x W350mm x H425mm

Weight

about 40kg
Our Company
SUZHOU SANAO ELECTRONICS CO., LTD is a professional wire processing machine manufacturer, based on sales innovation and service.
As a professional company, we have a large number of professional and technical personnel, strong after-sales services and first-class precision
machining technology. Our products are widely used in electronic industry, auto industry, cabinet industry, power industry and aerospace industry.
Our company provides you with products and services of good quality, high efficiency and integrity.Our commitment: with the best price and the
most dedicated service and tireless efforts to make customers improve productivity and meet customers' needs.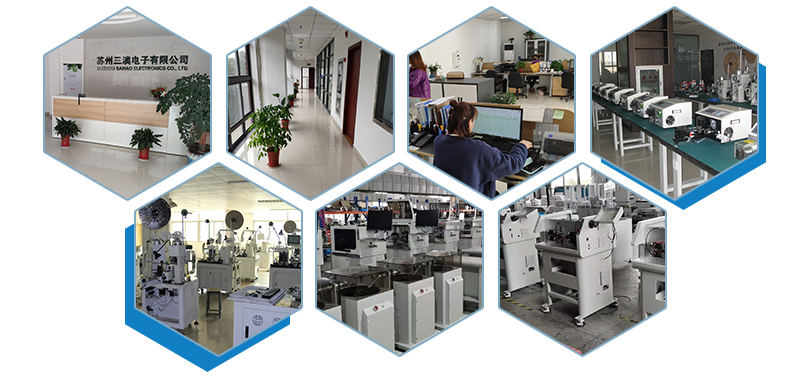 Contact Us
Contact: ken chen
Phone: +86 18068080170
Tel: 0512-55250699
Email: [email protected]
Add: No.2008 Shuixiu Road, Kunshan, Suzhou, Jiangsu, China